Joanna and Chip Gaines have seen plenty of home trends come and go, yet in the latest episode of their new show "Fixer Upper: Welcome Home," they highlight one particular upgrade that, in the words of Chip, is downright "controversial.
"In the episode "Planting Roots in Waco," Chip and Jo are aiming to remodel the home of one of their employees, John, who moved from New York City to Waco, TX, in order to work with this famous couple. Now, he's decided to settle down and bought a Texas home, for which he has a $75,000 renovation budget.
The problem: John requests some questionable design styles that Chip and Jo aren't sure they should do. Read on to find out what popular trend gives them pause, and why.
Don't Paint Your Old Brick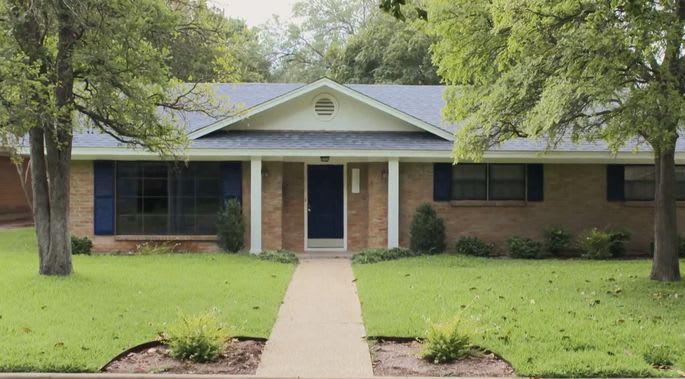 Before: Surprisingly, John wanted to change the color of this brick. Discovery+
When Chip and Joanna first see John's new house, they're impressed. The home is in great shape, and the exterior already looks beautiful.
However, John wants to change the home's look by painting the old brick white.
Right away, Chip and Jo are hesitant. They don't want to paint the house because they know the trendy look will take away from the home's classic charm.
"When you paint brick, it's a bit of a controversial thing," Chip says.
Still, they agree to paint the brick—at first. They later power-wash the brick and, once they see just how beautiful it is, they know they can't paint the house.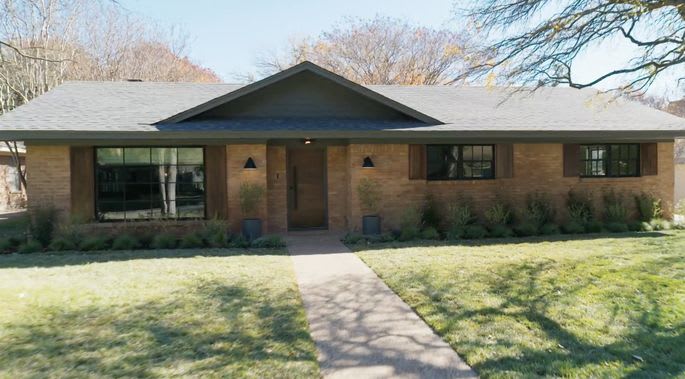 After: This antique brick was simply too pretty to paint. Discovery+
"This antique brick, like, people pay a lot of money to get this cool, old brick," Chip says. "It would be a disservice to this brick to paint it when it's this cool-looking."
So Chip and Joanna decide to skip painting the house. The decision saves them $5,000 and saves this house from a bad design move.
In the end, John loves the look just as much as Chip and Jo do. The natural brick looks incredible, especially with the new dark trim. It's lucky that the Gaineses stand their ground.
Cover Exterior Imperfections With Cleverly Placed Lattice Work
It's clear that Chip and Jo make the right decision when they choose to leave the brick alone, but the changed plan does present a problem. The home renovation includes removing two windows, and while Chip tries to match the original brick, he isn't able to find a perfect match.
Now, there are two patches of mismatched brick on the side of the house, ruining the look.
Luckily, Chip and Jo come up with an idea to cover these two patches with latticework and ivy. Not only do they hide the discolored brick, but they also add some lovely greenery to the side of the home.
"Obviously the ivy will take a little time to grow up and mature, but I mean, when you see this, it looks like a million bucks," Chip says.
Can't Remove a Wall? Open Up the Space With Interior Windows
Inside John's new home, Joanna wants to know how this new homeowner envisions the space. Does he want a completely open concept? Or would he prefer some room separation between the office and the rest of the house?
It seems he hasn't completely made up his mind, so Joanna takes a risk to give him a little bit of both.
"For your office, I would want to do something architectural here, where it's a wall, but it's a see-through wall," Joanna says.
The team installs large glass windows that open up the space between the office and the living room. It makes the home seem bigger and gives the space great sightlines, but still manages to give John a private office.
In the end, the window looks amazing. It's beautifully modern and wonderfully convenient.
An Updated Fireplace Doesn't Need to Be Ultramodern
In the living room, Chip and Joanna want to update the fireplace.
While the brick on the home's exterior is too precious to change, this renovating couple doesn't have the same concerns about this rounded fireplace. They know it's time for a change.
When Chip and Joanna first tour the house, Joanna shares her thoughts: "Maybe square off the lines and add a new hearth and then create an accent wall to where it's all kind of the same."
While she wants to make a lot of changes, the actual style of the fireplace wouldn't change too much. It will still be brick, and will still look traditional—only now it just won't seem so dated.
John agrees to Joanna's ideas, and the team gets to work fixing up the fireplace.

When John finally gets to see his finished home, he's impressed with the living room. The now squared-off fireplace improves the room, giving it a more modern vibe (without seeming out of place) and even providing a convenient space for a TV.

It just shows that a fireplace can be updated, while still maintaining a classic look.
Terra-cotta Tile May Be the Hot New Trend
With a beautiful living space, Chip and Joanna focus on the master suite, turning an old closet into a stunning bathroom.
Joanna wants to give this bathroom a dark, moody look, so she decides to use black subway tile in the shower and behind the vanity. However, at the last minute, she decides to use a more expensive black terra-cotta tile.
Chip insists that black terra cotta is a waste of money since it has basically the same look like the cheaper subway tile. However, Joanna says that the look actually is different, even though it's subtle.
"What you see in terra cotta that you don't see in the subway is a subtle movement," Joanna says. "There is a texture difference. There is a finish difference."
When the bathroom is done, John immediately notices the upgrade. The terra-cotta tile makes for a subtle change, but for Joanna and John, it's a big difference.
This terra-cotta tile has a subtle texture.